We caught up with Joe Carter who shared what life is like as an Innovation Scientist at Treatt.
What do you do at Treatt?
My role can be broadly broken down into two parts: technological innovation and new product development.
We take essential oil raw materials and process them into value-added extracts and ingredients, implementing new technologies which require less energy input to extract value from those oils.
For new product development, we explore the different methods of extracting flavours from raw ingredients; using insight from market analysis, collaborating with customers, and developing products for specific briefs, and looking at future trends to understand which new products can add value to the marketplace in a way that meets future consumer demand.
How did you begin your career in science?
Having studied at a secondary school close to the Bury St Edmunds headquarters, one summer I spent six weeks at Treatt completing a work experience placement within Quality Control.
I then went on to study Chemistry at the University of Nottingham for four years, before completing my PhD at the University of Manchester. Post-education, I wanted to enter a science field where my knowledge and research could have an immediate impact. I also wanted to join an organisation where I could learn a variety of different techniques, which led me to Treatt. I have been an Innovation Scientist based in the UK for the past two and a half years.
What have you been working on recently?
I have been working on implementing technologies which will make our processes both more streamlined and more energy efficient, particularly looking at cold processing technologies to produce a less energy intensive extract to enhance the true-to-ingredient taste and aroma.
I am always scanning fundamental technologies across all manufacturing industries to see how we could be more efficient in processing essential oils and flavour extracts.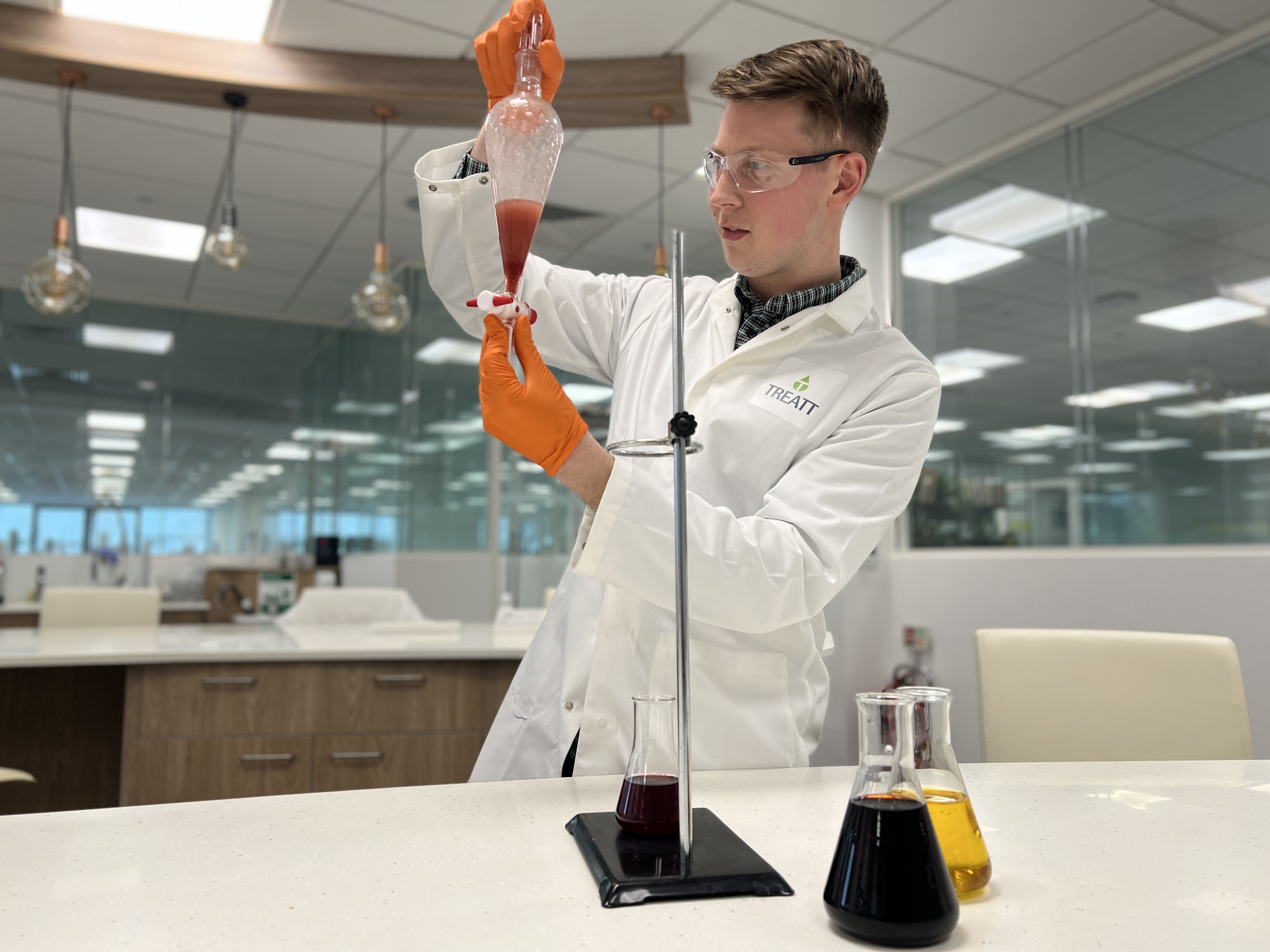 What's your favourite Treatt extract and why?
Having recently worked with our (link: 100% natural Jalapeno Treattarome®, this product which sits among our Fruit and Vegetable portfolio has really grown on me. I love the fresh green top notes which develop into intense earthy flavours, all underpinned with a chilli kick!
What's the most exciting part of your job?
I am passionate about sustainability, so reviewing and developing processes which are more energy efficient bring about a great sense of enjoyment, particularly as it makes my colleagues and I feel we are making a real contribution on Treatt's sustainability journey.
Utilising new technologies which are not currently used by others, fuels innovation of which I am at the heart of. Developing products in the lab which end up on retail shelves for consumers to enjoy is a great tangible reward of the role.
What are the key trends or 'ones to watch' for the future?
As the world becomes more energy conscious, and rightly so, cold processing of natural flavours and ingredients will be incredibly important. Whilst cold processing is advantageous for capturing the true flavour profile, it will also provide multiple technical, sustainable, and commercial benefits for ingredient manufacturers.
What's your favourite drink and occasion to drink it?
Aperol Spritz. It reminds me of the summer sitting in a café in Puglia, Italy.
We know what it takes to create a beverage that will stand out for all the right reasons, whether you're reformulating a product, or developing a new one. Contact one of our team today.