When you look at what's going on across the world, it's no wonder we're craving escapism and seeking out new experiences to brighten the day to day. 
What's driving the 'experience everywhere' trend?
As we navigate our way through uncertain times, consumers are seeking and embracing novel experiences. At the same time, the evolution of technology and connectivity brings with it new expectations for constant entertainment and experiences, both in the physical and virtual world.
Our growing anxiety around environmental and economic issues continues to play an ever-important role in fueling consumers' need for fun and escapism.
Social media has become a critical force for driving new products and behaviours, particularly in the world of food and drink where a brand can live or die by its social following. 
Which consumer groups are interested in 'experience everywhere'?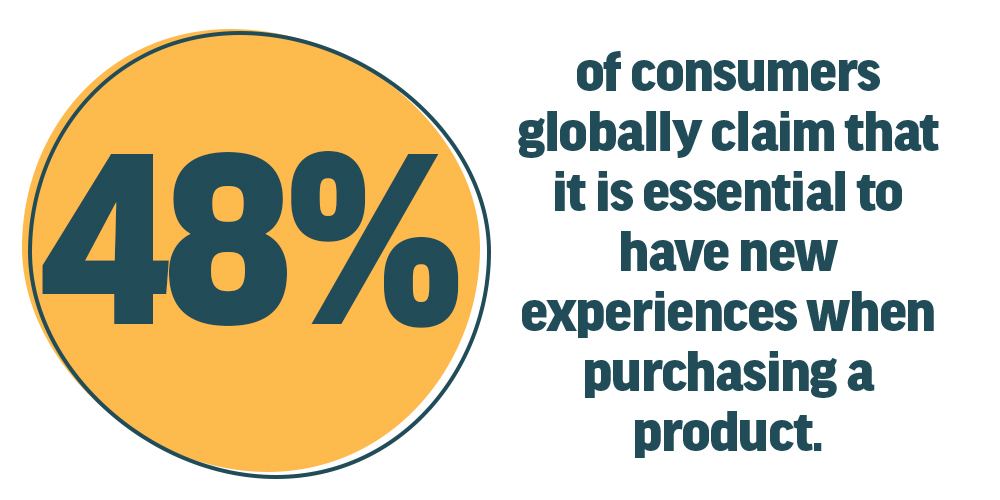 Across demographic groups it is predominately Gen Z and Millennials who are having to consider how and where to spend their hard earned money more closely than ever. Some are prepared to trade down rather than forgo a treat altogether but they are still looking for that all important experience. For now most are still buying their favourite brands, albeit less often or in smaller quantities.
And it's not all about the metaverse - consumers are seeking sensorial experiences that are not possible in the digital realm - taste, smell, and texture are all examples where food and beverage can transcend the digital and offer an alternative experience.
What's next for the beverage industry?
The interactive nature of food and beverages naturally lends itself to providing an experience and satisfying a consumer need. This is especially true in the context of inflationary pressures when larger purchases are not always possible. 
Whether it's the taste of a favourite dish transporting us to another place or the memory of a special occasion, food and drink touches so much of our lives in an emotional way. 
Beverages that amplify the flavour, colour, texture, and aroma will all add to the sensorial experience of a product. New and unusual flavours and cross category innovation can create an extra touch of excitement and experience.
Within the non-alcoholic and alcoholic categories, natural, organic, and similar claims continue to grow as brands look to promote natural ingredients as having the potential to benefit consumers physically and emotionally.  
31% of global consumers cite high quality products and ingredients as representing good value when buying non-alcoholic beverages. The challenge for brands therefore is to address this demand across their portfolio, from budget to premium.
Food, drink, and foodservice brands must consider how to enhance the experiential nature of products across all price points by enhancing both the 'everyday' as well as more premium offerings.   
Experience the trend for yourself
Our global applications team has developed a demo toolkit, tailored to regional tastes, that illustrates how this trend manifests itself in a range of different beverage applications.
Click HERE to book your exclusive tasting with a member of our expert team.
Sources: Global Data and Mintel GNPD