Discover how we source our watermelons, known for delivering a sweet, juicy, refreshing taste, as found in our 100% natural Watermelon Treattarome®.
History of watermelons
Watermelons have a rich history, having been cultivated for thousands of years and continue to be a popular flavour among beverage consumers. Originally from Northeast Africa, the first recorded mention of watermelon was in ancient Egypt 5,000 years ago. In Africa they were first used not so much as a food source, but to store and transport water – not surprising as they are around 92% water.
Watermelons are related to cucumbers, pumpkins, and squash and are the most widely consumed melons in the United States. In Japan, they have perfected the art of growing square watermelons, which fit neatly into refrigerators.
A great source of vitamin C, watermelons contain smaller amounts of potassium, copper, and vitamin A. While many of us enjoy the juicy flesh, watermelon seeds are rich in minerals while the rind contains L-citrulline, an amino acid that's been studied for its role in reducing inflammation, blood pressure and improving athletic performance.
Where we source our watermelons
We primarily source our watermelons from the sunny fields of the Southeastern United States, specifically Florida and Georgia. Watermelons thrive in warm climates and are not able to withstand cold temperatures. They require a minimum of 8 to 10 hours of direct sunlight daily. Growing on expansive vines in fields, they typically take approximately 90 days to reach maturity, with two primary harvest seasons: spring and summer.
The farmers only pick the watermelons when the fruit is fully ripe – they won't continue to ripen after being harvested.
Sourcing our watermelons: a sustainable approach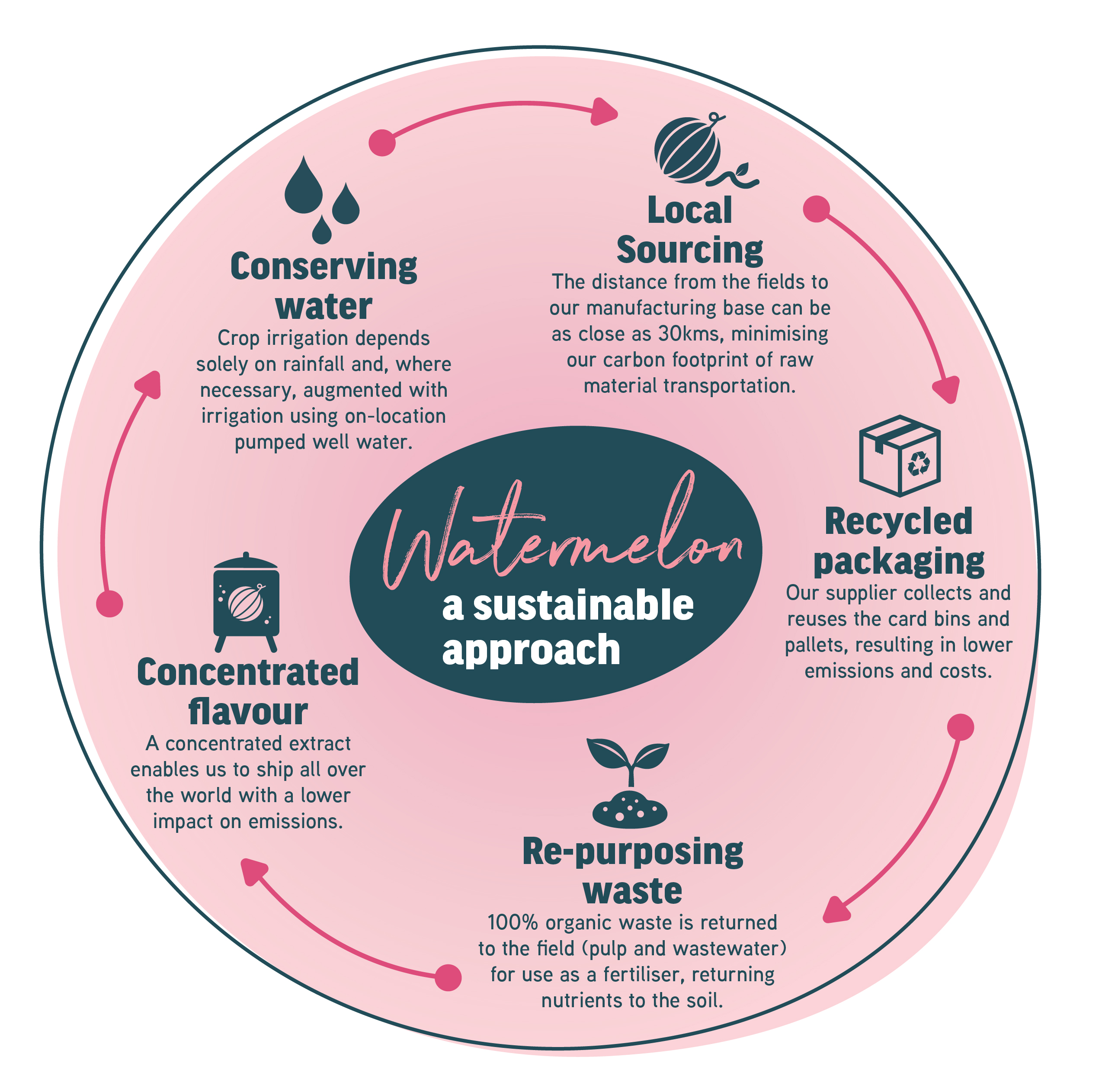 As a natural extracts and ingredients manufacturer, we are fully aware of the impact climate change has on the sustainability of the raw materials we process. The distance from the fields to our manufacturing base can be as close as 30kms when sourcing our watermelons, minimising our carbon footprint of raw material transportation. We recycle the packaging used for delivering our watermelons and repurpose the pulp and wastewater, which is then used as soil fertiliser.
Watermelon as a trending flavour
With its tropical and juicy character, Watermelon has consistently been a favoured choice among consumers, and it continues to be one of the strongest trending flavours in non-alcoholic beverages. Watermelon flavour has experienced remarkable growth in the past 5 years, with an exponential growth increase of 639% in the energy drinks category. Moreover, this delightful flavour has also witnessed substantial growth in flavoured and enhanced waters, as well as RTD/Iced Tea, which has seen a significant rise of 150%.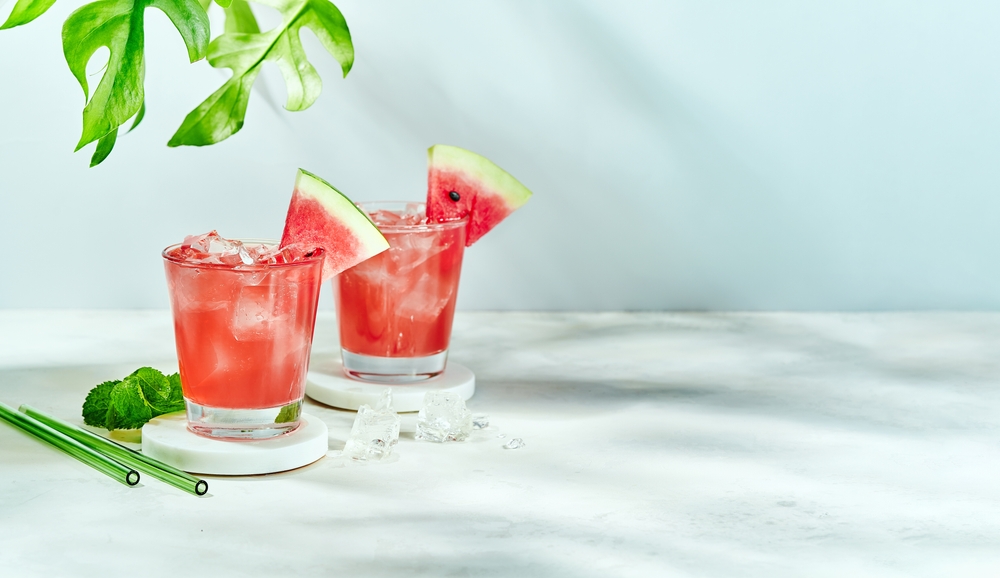 The enduring appeal of watermelon shows no signs of waning, with GlobalData forecasting the strongest growth will be in the RTD/Iced Tea and Flavoured water categories to 2028 with watermelon also trending strongly in new product launches across the alcoholic beverage category with a 56% increase in watermelon flavour over the past 5 years.
Why we love watermelons
Sweet, juicy, and incredibly refreshing – what's not to love?
Watermelon provides a wonderful sense of nostalgia, bringing about thoughts of summertime, but thanks to its versatility, it is increasingly becoming a flavour for all seasons. It aligns perfectly to the growing health and wellness trend, with consumers wanting authentic, natural flavours.
Our 100% natural watermelon extract, Watermelon Treattarome® is wholly distilled from fresh watermelons and is particularly effective in clear beverages where unusual, tropical notes are required, delivering a refreshing fruity, juicy character with balanced flowery and fruity backend notes.
Want more?
Try it for yourself. Request a demo and discover how our Fruit & Vegetable ingredients deliver natural products that perform.
To receive our Ingredient Insights straight to your inbox, click on the 'sign up for updates' button and complete the short form.
Sources:
GlobalData, Global Soft Drinks market analyser 2018-2028
Mintel GNPD, Watermelon flavour across all alcoholic beverage categories globally Jul 2018-June 2023