No drinks category is immune from the march of the health and wellness movement. Even though it can seem like an uncomfortable fit, we're seeing an increasing harmony between a healthy lifestyle and alcoholic consumption. In this article, we look at what's driving the latest innovation in this exciting and opportunity-rich area.
The Challenges
There's no denying that consumption across several pillars in multiple regions is falling as consumers seek out healthier lifestyles. More than one generation has identified as being 'time poor' and that consuming excessive alcohol is inconvenient and discordant with their busy lifestyle. The mainstream devaluation of 'craft' is also posing challenges, particularly in the beer and premium spirit sectors, which is making it quite difficult to do something new that will be widely accepted. Brands in the alcoholic beverages space have got their work cut out for them, but there's lots to get excited about.
The Opportunities
The health and wellbeing movement has created multiple opportunities for creative innovation, all geared around the evolving needs of the modern consumer. The alcoholic drinks industry represented $1.8tn in global spending in 2018. This figure was largely made up of beer sales, but other segments are tracking impressive growth despite the difficult climate. Let's look now at what's driving the growth opportunities within the 'Better For You' movement.
Low and No
More and more brands are embracing the inclusion of low and no alcohol offerings in their range in order to tempt sober and sober curious millennials and GenZ back into the category. Reduced ABV levels, as well as sugar and calorie content, are creating a huge stir in the industry. Non-alcoholic spirits are forecast to grow at a CAGR of 21.7% between 2018 and 2023. While this increase is from a comparatively low base point, it's testament to the consumer appetite for this emerging class of drinks.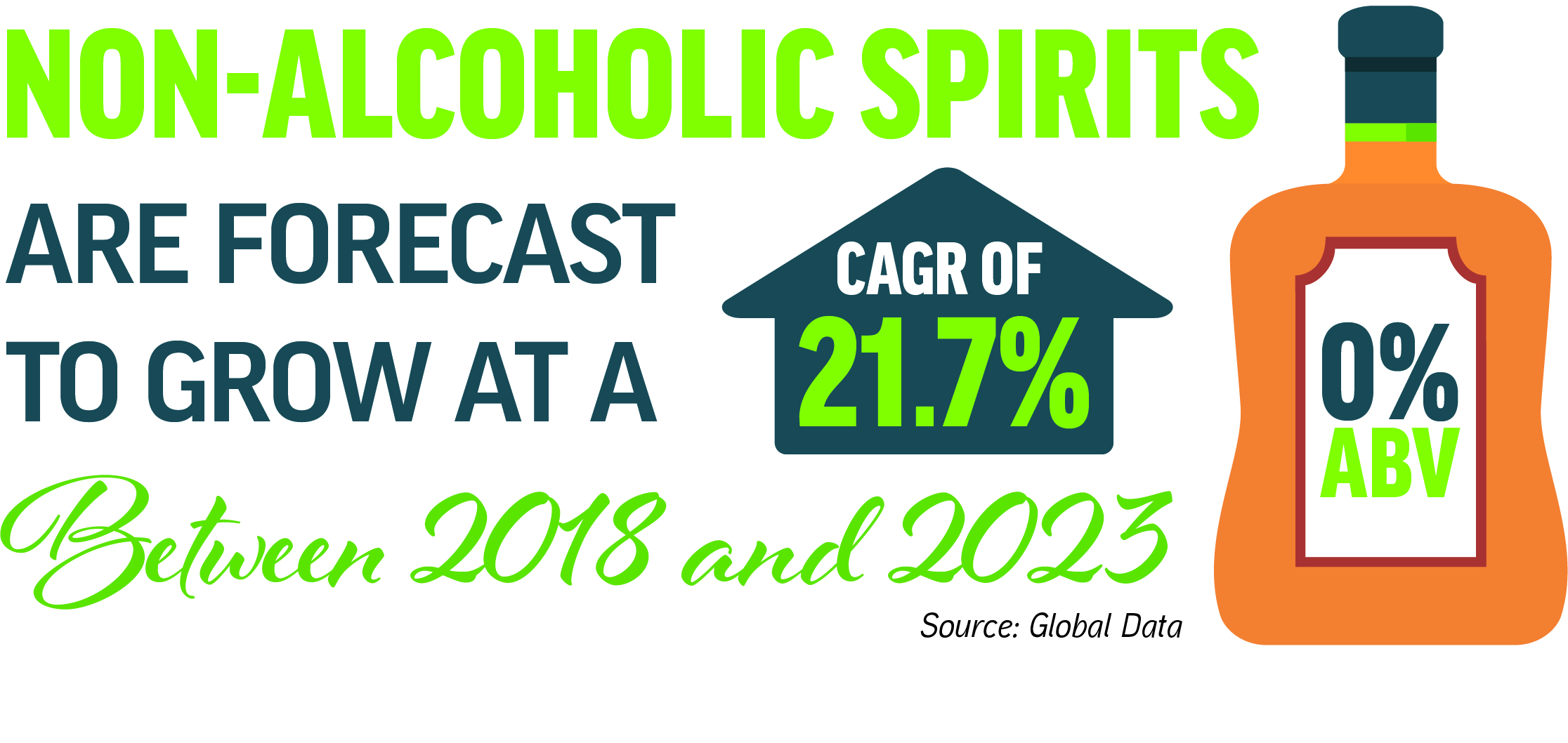 Healthy ingredients
Beverage producers are incorporating ingredients with enhanced health benefits into their formulations in order to appeal to the health-savvy consumer. As a result, we're seeing a marked influx in ingredients like fruit juices, waters, botanicals, teas and other functional solutions appearing in innovative new alcoholic product launches.
Natural ingredients have a strong appeal across the board and those with ethical and sustainable credentials will be of particular interest to the rising population of 'activist consumers'.
True craft
As 'craft' becomes mainstream, many consumers look upon the term with cynicism as in many cases, brands citing this on the label have little to evidence any form of craftsmanship in how their product is designed and made. In an attempt to re-engage the connoisseur consumer, brands are becoming far more adventurous with their formulations. We're seeing an increase in hybridisation across alcoholic drinks genres as producers look to appeal to those with an exploratory appetite and a thirst for something new but also authentic.
Drinks-tagramming
Successful brands in this space are really leaning into what makes their consumers' tick. Innovators are increasingly seeing their beverages as a visual as well as experiential consumption experience in order to capture the attention of the social savvy generations. Consumers are turning to social media sites in their hundreds of millions to share their daily highlights and brands are capitalising on this by fuelling their feeds with multi-coloured, stimulating and eye-catching 'must-share' beverages.
In Summary
If brands are going to be successful in a shifting market, they must consider the over-riding mega-trends that continue to influence consumers the world over when developing their innovation strategies. Health and Wellbeing is an established consumer movement creating waves in every category and while it's certainly still evolving, there is plenty of scope for creativity.
For more information about how our global team of innovators could help transform your upcoming project, simply get in touch to learn more.